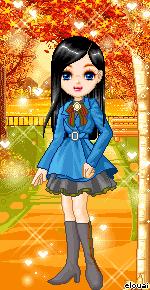 Nikolai Chernova

Quote: "Love's easy to rip off of our hands, a ghost is not that easy"


Nikolai

Birthday:

January 1, 1993

Age

18

Gender

Female

Family

Lilya Chernova (distant cousin)

Eye Color

Ice-Blue

Hair Color

Black

Height

6'8

Alias

Nikki

Love Life

Frank Zhao Lin (ex-boyfriend)

Appearances
Nikolai is a 18-year old girl who is being of Russian descend.
Physical Features
Edit
She has black hair like most Russian descends and of Asians. She has ice-blue eyes that no one ever knows in which she had gotten it from.
Her eyes, however, being of a gift to see ghosts without the Third Eye, she is legally blind, which is why she wears eyeglasses, until the story she first appears in, her supernatural eyes turns into normal eyes, so she does not need the glasses anymore.
Personality
Edit
She's completely shy, she stutters and stammers whenever she is near for more than 5 people.
Her stammers somehow had gotten the attention of all-time popular Frank Zhao Lin. A popular student in her school from Chinese ancestry. However, they broke up shortly after she found out he cheated over her while saying, "What? You're Russian, I'm Chinese. Forget it, Nikki, no one's going to like you for your history."
She was born from a Russian descend from her mother.
Secretly, Anastasia Romanov survived the execution of her family, had made her own family right before they found and murdered her, and no one ever knew that Anastasia had a family.
Her father, was half-American and half-Russia.
Her parents, so far, were ripe targets of descendants from the firing squad that killed the Romanovs. Her father, was killed before she was born.
Her mother had changed her identity from Romanova into Chernova, just like her father.